Unsweetened Turmeric Ginger Chai Tea Latte – 10 Count
(2)
Looking for a health kick that still tastes great? Look no further than our best-selling Unsweetened Turmeric Ginger Chai Tea Latte! Packed with all the outstanding health benefits of Turmeric and the robust flavors of ginger mixed with traditional Indian spices, this chai latte has it all!
The coveted spice of turmeric has been widely known for its remarkable health benefits – used by Ayurvedic Indians dating back nearly 4000 years! This golden spice blended with all-natural flavors of ginger and classic Indian spices reveals a truly blissful and satisfying experience with each sip! Whether you're just starting your morning or need an afternoon boost, the Turmeric Ginger Chai Latte is the perfect drink to uplift your day!
Packaging May Vary
All the wonderful aroma of Darjeeling and Assam tea blended with the soothing flavor of Turmeric and Ginger. Ease your cares away.
Each box includes Qty 10, single serve, individually packaged pouches of chai tea latte mix. (Available in 20-pack and Unsweetened 10 pack)
All Natural Ingredients
All-in-One Convenience – Just add hot water!!
Kosher & Halal Certified
Non GMO and All Natural
Allergen Information:
CONTAINS MILK SOLIDS. See our vegan options for your dietary preferences! Produced in a facility that also processes milk and treenuts (almonds, cashew nuts, and pistachios).
CHAI LATTE BENEFITS: The wonderfully aromatic and robust flavors of Assam and Darjeeling tea blends provide a boost to your health! These teas have been known to provide your body with antioxidants and anti-inflammatory properties to keep you at your best! Also don't forget that Calcium from the milk provides you with Healthy bones & teeth.

TURMERIC & GINGER BENEFITS: Turmeric and ginger combine to deliver a wealth of nutritious health benefits. Turmeric, the golden spice of India, has been used for centuries in strengthening the immune system and even aiding in the prevention of heart disease. Similarly, the robust and intense ginger contains properties to help fight bad germs, alleviate nausea, and soothe sore muscles. Try QuikTea's top selling product today!
Simply empty the pouch contents into a cup, add hot water, mix, and enjoy. No need to add milk, as everything is conveniently included in each mix!
Milk Powder (Available with Coconut milk)
Instant Black Tea
Natural Turmeric & Ginger Extract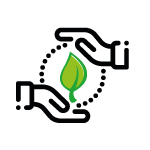 Ethically Sourced
All of our products are harvested and produced in a sustainable and responsible fashion for a great, amazing taste every time!
Nature's Goodness
Simplicity – guaranteed!
With simple, easy to understand ingredients, we are committed to providing all natural products free of synthetic colors, flavors and preservatives!
All-in-One Convenience
Our pouches contain all you need for a perfect cup every time – just add hot water, stir and ENJOY!