Cardamom Chai Tea Latte – 10 Count
(0)
Surprise your taste buds with a classic Cardamom Chai Tea Latte. We promise that with our Cardamom (Elaichi) Chai Latte, you can really taste the authentic flavor of tea from the "bagaans" (tea plantations) of Darjeeling and Assam, in a latte-licious twist.
Experience the warm and soothing aroma of our premium blend, perfect for any moment- whether cuddled up with a book on a rainy afternoon or while prepping to take on the day. Using pure and simple to understand ingredients, we at QuikTea have created an Indian Cardamom Tea that does not compromise on quality or taste and is always easy to make.
We are committed to delivering complex flavors in a simple cup, allowing you to bring the authentic chai experience to you. Buy a box online today and enjoy all the wonderful aroma of Darjeeling and Assam tea blended with the soothing flavor of Cardamom. Ease your cares away.
Packaging May Vary
All the wonderful aroma of Darjeeling and Assam tea blended with the soothing flavor of Cardamom. Ease your cares away.
Each box includes Qty 10, single serve, individually packaged pouches of chai tea latte mix. (Available in 20-pack and Unsweetened 10 pack)
All Natural Ingredients
All-in-One Convenience – Just add hot water!!
Kosher & Halal Certified
Non GMO and All Natural
Allergen Information:
CONTAINS MILK SOLIDS. See our vegan options for your dietary preferences! Produced in a facility that also processes milk and treenuts (almonds, cashew nuts, and pistachios).
Tea Benefits: antioxidants and anti-inflammatory
Calcium Benefits: Healthy Bones & Teeth
Cardamom Benefits: Improves digestion & treats bad breath
Simply empty the pouch contents into a cup, add hot water, mix, and enjoy. No need to add milk or sugar, as everything is conveniently included in each mix!
Milk Powder (Available with Coconut milk)
Pure Cane Sugar (Available in Unsweetened!)
Instant Black Tea
Natural Cardamom Extract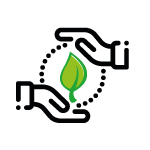 Ethically Sourced
All of our products are harvested and produced in a sustainable and responsible fashion for a great, amazing taste every time!
Nature's Goodness
Simplicity – guaranteed!
With simple, easy to understand ingredients, we are committed to providing all natural products free of synthetic colors, flavors and preservatives!
All-in-One Convenience
Our pouches contain all you need for a perfect cup every time – just add hot water, stir and ENJOY!