Plain Chai Tea Latte – 40 Count (2 boxes of 20count)
(0)
New to the world of chai tea lattes and not sure where to start? Look no further! With so many different flavors and combinations of chai available, it can be difficult to determine which flavors are right for you! Luckily, our master brewers at QuikTea have formulated the Plain Chai Tea Latte, built with full flavored tea.
Designed to bring you JUST the classic chai aromas and flavors the Plain Chai Latte has nothing added and nothing removed. Packed with anti-oxidants and ALL-NATURAL nutrient rich ingredients, each pouch provides a variety of health benefits without any preservatives or artificial flavoring. All you need to do is empty the pouch contents into a cup, add hot water, mix and enjoy! No need to add milk or sugar as QuikTea's all-in-one pouch contains everything you need.
Packaging May Vary
All the wonderful aroma of Darjeeling and Assam tea blended with the soothing flavor of Cardamom. Ease your cares away.
Each box includes Qty 10 (40 Count total), single serve, individually packaged pouches of chai tea latte mix. (Available in 20-pack and Unsweetened 10 pack)
All Natural Ingredients
All-in-One Convenience – Just add hot water!!
Kosher & Halal Certified
Non GMO and All Natural
CHAI LATTE BENEFITS: The wonderfully aromatic and robust flavors of Assam and Darjeeling tea blends provide a boost to your health! These teas have been known to provide your body with antioxidants and anti-inflammatory properties to keep you at your best! Also don't forget that Calcium from the milk provides you with Healthy bones & teeth.
LEMONGRASS BENEFITS: Did you know lemongrass tea is particularly beneficial in reducing anxiety. The aromatic lemongrass has been used for ages to help alleviate stress and anxiety. It has also been seen to help with your oral health, such as cavities and infection, thanks to its innate antimicrobial properties! Grab a pouch and make your cup!
Simply empty the pouch contents into a cup, add hot water, mix, and enjoy. No need to add milk or sugar, as everything is conveniently included in each mix!
Milk Powder (Available with Coconut milk)
Pure Cane Sugar (Available in Unsweetened!)
Instant Black Tea
Natural Lemongrass Extract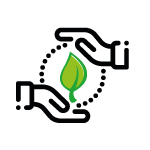 Ethically Sourced
All of our products are harvested and produced in a sustainable and responsible fashion for a great, amazing taste every time!
Nature's Goodness
Simplicity – guaranteed!
With simple, easy to understand ingredients, we are committed to providing all natural products free of synthetic colors, flavors and preservatives!
All-in-One Convenience
Our pouches contain all you need for a perfect cup every time – just add hot water, stir and ENJOY!